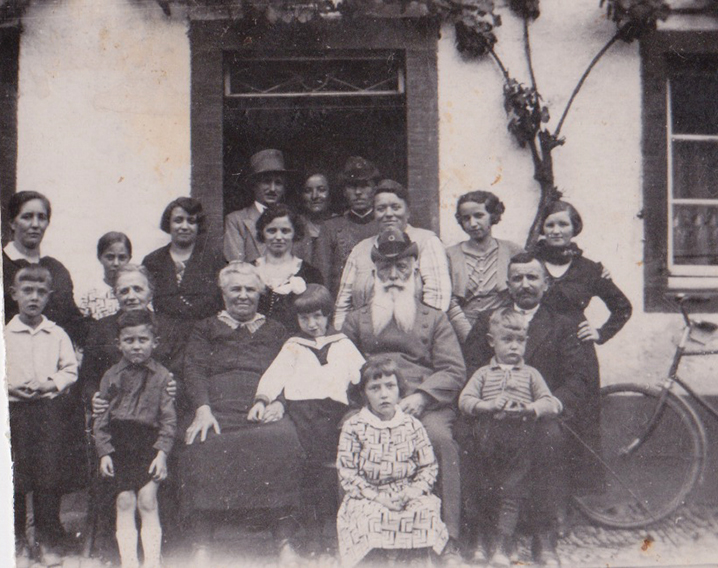 picture taken in Hamm /Eifel long before my Dad was born (exact date unknown)
The man with the long beard and the hat is Nicolas Frieseisen, born 1866 in Bettendorf (L), he worked as a forster at Schloss Hamm. He was married to Barbe Gillen, born 1866 in Gilsdorf (L) who was my grandmothers aunt (the sister of her mother, Marguerite Gillen).
Next to Nicolas Frieseisen, on his left, the man with the moustache, is Jean Keip, my grandmothers father.
The woman holding the boy on the left is his wife, Marguerite Gillen, my grandmothers` mother. And next to her is Barbe Gillen, her sister and wife of Nicolas Frieseisen.
On the right, last row, with the hand on her hip is the wife of my garndmothers' brother Jos. Next to her, with the stripey dresss is my grandmother, next to her, the daughter of Nicolas Frieseisen, and next to her are two sister of my grandmother.
The other people are unidentified.
… " Wir schickten einen Eilbrief in die Eifel wo ich eine Tante hatte ob ich und die Kinder zu ihnen konnten. Ich fuhr dann mit den beiden Kindern in die Eifel keiner durfte etwas wissen das war eine Fahrt. Der Zug voll mit Soldaten. Immer Kontrollen.Wir waren immer unterwegs zum WC.
In der Eifel angekommen half meine Familie mir so gut sie konnten. Eines Tages als Armand aufstand band er nicht seine Schuhe, darauf angesprochen sagte er kann sich nicht bücken der Rücken täte ihm weh., als es nicht besser ging rief ich in Bitburg einen Luxemburger Arzt an (DR.Thys) der dort verpflichtet war. Anfang sagte er ab wegen des Benzins als ichihm meine Lage sagte kam er so schnell wie möglich . Er untersuchte Armand und wollte ihn gleich mit ins Krankenhaus nehmen ein teil Lähmung (?) und Unterernährung. Ich wollte aber nicht ohne meinen Mann zu fragen. Meine Tante riet mir auch zu warten. Wir schickten einen Eilbrief nach Schlesien, ein Mann bekam vom Chef einen Urlaubsschein. Er kam sofort zu uns. Er wollte mit Armand nach Bitburg zum Röntgen fahren setzte das Kind auf die Stange vom Fahrrad nach ein paar Meter kam das Kind mit dem Fuß ins Rad und hatte gleich den Fuß dick geschwollen. Dann ließen wir die Ambulanz von Bitburg kommen. Der Rücken hatte sich aber schon gebessert dank der guten Pflege und dem guten Essen bei meiner Tante. Aber es ist immer etwas zurück geblieben. Mein Onkel und sein Schwiegersohn waren Förster bei einem Grafen auf Schloß Hamm. Der Schwiegersohn war Nazi (war aber gut zu den Kindern) Als der spitz bekam dass wir schwarz da waren war die schöne Zeit um."
(from my grandmothers memory)
…" Fun der Rees op Hamm hun eh strictement neischt verhaal. Ech ka mech just erenneren dat mei Pap noo komm ass, dat e mech mam velo op Bitburg bei den Dokter gefeiert huet, dat ech ennervee mam Fouss an d Raad komm sin, dat daat zolid wei gedoon huet, sou dat d visite beim dokter duebel noutwenneg waar.
Vum séjour zu Hamm weess ech nit vill, nemmen dat e miir ganz gudd gefall huet: nievt dem Haus stong én Hielennerbaam fun deem ech dei donkelblo bieren (berries) gepleckt a giess hun an nit weit fum hèus waar é floss. Daat alles waar ganz bukolesch, waat manner bukolesch war waar all ooves d réunioun vun der famill an der Kichen fiir zesummen an haart de Rousekranz ze bieden bis et zèit waar fir an d bett ze goen. Ah well, no TV and great piety."
(my Dad remembers)